Art house online gallery is delighted to announce winners of first edition of our contest for December 2018.
First place: The weaving of life
                                   click >here< to see in high quality
Artist : rima al rimawi
country : Jordan
zip-code : 11941
email: rima.alrimawi@yahoo.com
biography: Rima ALRimawi is a Jordanian visual artist.
she graduated from the university of applied sciences with bachelors degree in graphic design in 2000 . Rimawi  participated in several art exhibitions . she now teaches art passing on her experience to her students.
Medium : Drawing on cloth with raw materials 100×80 cm
Dimensions : 100×80 cm
Second Place:  Repeat the experiment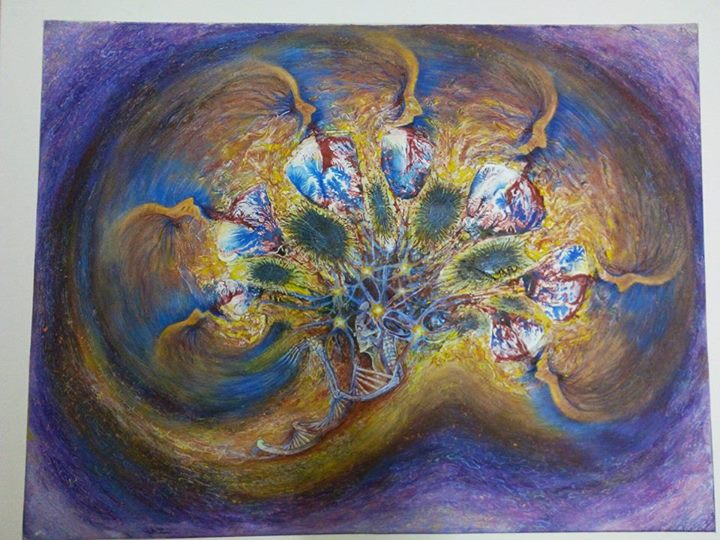 click >here< to see in high quality
Artist: Roumaissa Kebassi
country : Algeria
email: kebassi-roumaissa@hotmail.com
biography: Mostaganem
General Specialization: Visual Arts
Specialty: Bachelor of Fine Arts
Master degree. History and criticism of fine art
Temporary success certificate for the Batna Fine Arts School 2011 First installment
Baccalaureate Certificate 2012
Bachelor of Fine Arts, Mostaganem, 2015
Master Certificate of Fine Arts Criticism Mostaganem 2017
Second Year PHD
artwork: At the moment of Alzheimer's
Medium : Different techniques
Dimensions : 65/50
Third Place: Rare pearl
click >here< to see in high quality
Artist Name : Sana Hichri
Country : Tunisia
zip-code : 2037
email: sana.hichri@icloud.com
website: https://www.artsper.com/fr/artistes-contemporains/belgique/50373/sana-hichri
biography: 1976 / Lives and works between Brussel , Dubai and Tunisia.
Sana Hichri modern contemporary Artiste ,sculptor creatrice, and professor of fine Art  Gratuated from the royal academy fine art Belgium Director and Foundation The club  of Fine Arts which federates and directs a network of artists, the history of modern art, painting and sculpture, according to a pedagogy that has developed over 20 years of personal artistic experiences, her Work can be found in collections across the UAE and Europe.
Her modern paintings and sculptures can be described as uniques and originale arts. Her artwork is layered with symbolism, often provoking deep emotions. She expresses love, hope, authenticity, and beauty through her modern arts…!
Medium : Mixed media
Dimensions : 1m x 90cm
Many people read our art newsletter ; you should too!