Seventy-nine equally sized lumps of cast iron tinted orange with oxidation are arrayed on a low pedestal in an art exhibit. This is Pritika Chowdhry's "The Master's Tongue: Dialectics of Language," and the strength of her sculptural illustration lies in its simplicity. The Masters' Tongues was first created as part of an artist residency in Franconia Sculpture Park.
Look closely, and you will notice that the lumps turn out to be tongues, each slightly different from one another. The number of tongues is especially significant: one for each of the fifty-four Commonwealth countries and twenty-five territories under British governance. These seventy-nine states have mother tongues other than English, yet English is still widely spoken in these nations. And so, the chief motivation behind Chowdhry's work is examining the politics of language and investigating how it functions as a tool of colonial and neo-colonial power.
The Masters' Tongues represent the once globe-spanning British Empire and a reminder of the spread of the English language and all the other languages lost or suppressed during the age of colonialism (especially during the British colonial rule in India). These are tongues without mouths, after all.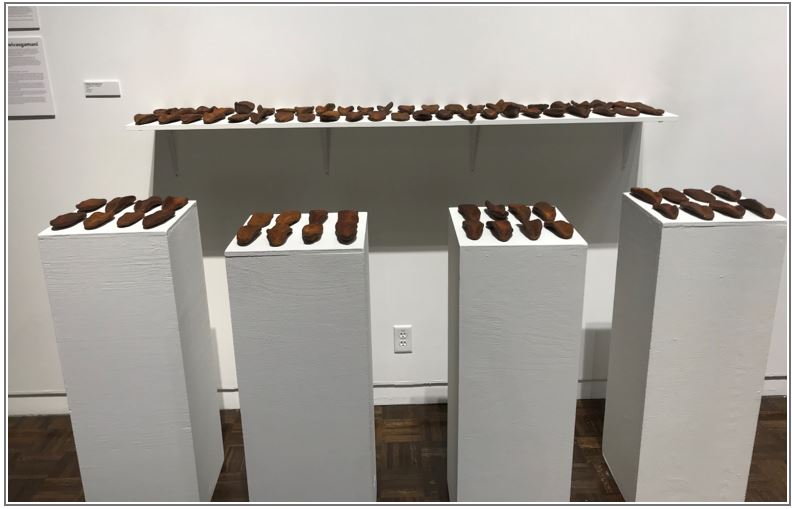 English as a Tool of Colonialism and Resistance
Chowdhry's artwork engages with the texts of several prominent thinkers and philosophers. In "Discourse on Language," French philosopher and historian Michel Foucault investigates power, knowledge, and the control of discourse. Foucault's notion is reflected in how language was used by the British to create a discourse of their superiority and the inferiority of the natives of the colonies. The British claims of superiority were validated by dubious entitlements of eugenics, industrialization, and rituals of civilization.
Another classic work in postcolonial studies that informs Chowdhry's work is Gauri Viswanathan's Masks of Conquest. In this text, Viswanathan describes the introduction of English studies in India under British rule and states that the curricular study of English can no longer be understood innocently or inattentively to the imperial contexts in which the discipline first articulated its mission. In other words, English was used as a potent tool to colonize the minds of the native people and instill in them an identity of being inherently inferior and uncivilized.
Even today, the ability to speak fluently in English is a marker of superiority in many of Britain's former colonies. And not surprisingly, to gain fluency in English in a county where the language is not its mother tongue often requires access to elite schools and considerable financial resources.
It's undeniable, however, that English is constantly changing in all the 79 countries presented in Chowdhry's work, as to how the language spoken and written becomes hybridized by the accents, colloquial phrases, and sounds of the local mother tongues. Immigrants to the West also transform the English language by appropriating it for their purposes. The emergence of English dialects such as Spanglish (Spanish + English), Chinglish (Chinese + English), Hinglish (Hindi + English), Caribbean patois, and many other variations signal change for the better which informs the crux of Chowdhry's work.
The Art of Rusted Iron
Through The Masters' Tongues, Chowdhry establishes that the emergence of English dialects is a provocative sign of colonized people asserting their cultural identity back onto the colonizer's language – a practical way of combating neo-colonialism. It's why she purposely allowed the tongues to rust over several months to symbolize the gradual changes and local adaptations in the English language and signify how postcolonial appropriation of the master's language can undermine and subvert at least one of the master's tools. The rusting process also continually changes the tongues in subtle ways, making the work durational. And while rust can be seen as deterioration, rust creates a hard outer shell on iron that protects the metal and makes it stronger.
Chowdhry was drawn to iron specifically for its aesthetic quality and as a cultural reference. So all seventy-nine cast iron tongues in her installation are indicators of the Industrial Revolution – one of the significant forces of colonial power and the primary metal used to create railroads, ammunition, and monumental buildings.
Countering the Narrative
Much of Chowdhry's other sculptural installations investigate counter-memory, and like in the case of The Masters' Tongues, the power of language as a container of emotions and memories. Works such as Naturalized, Empty Time, and Endlessly are all part of a Sculptural Poems series that present narratives excluded from dominant cultural discourse to disrupt hegemonic collective memories.
The Masters' Tongues brings into conversation the words of Black lesbian feminist writer and activist Audre Lorde, who said in a feminist conference in 1979: "The master's tools will never dismantle the master's house." But postcolonial literature, colonial historiography, and other significant cultural texts coming out of the former colonies allude to a new era in which the master's tools have been appropriated as a tool of resistance by the once colonized people. For a postcolonial artist like Chowdhry, this is a heartening turn of events. The Masters' Tongues is in dialog with Lorde's statement and suggests that maybe, just maybe, the enslaved can and do appropriate the master's tools (English) to dismantle the master's house (colonialism).
About the Artist
Prithika Chowdhry is an artist, curator, scholar, and educator. Born and brought up in India, she currently lives in Chicago (Illinois) in the United States. Chowdhry has an MFA in Studio Art from the University of Wisconsin-Madison and an MA in Visual Culture and Gender Studies.
Her works have been featured both nationally and internationally in group and solo exhibitions in the Weisman Museum in Minneapolis, Queens Museum in New York, the Hunterdon Museum in New Jersey, the Islip Art Museum in Long Island, Visual Arts Center of New Jersey, the DoVA Temporary in the University of Chicago, the Brodsky Center in Rutgers University, and the Cambridge Art Gallery in Massachusetts.
Chowdhry received a Vilas International Travel Fellowship, an Edith and Sinaiko Frank Fellowship for a Woman in the Arts, a Wisconsin Arts Board grant, and a Minnesota State Arts Board grant. She has taught at Macalester College and College of Visual Arts, both in St. Paul, Minnesota.
Published scholarship about Chowdhry's work has also come out in peer-reviewed research publications and various exhibition catalogs. Additionally, she has presented her studio research projects at various national conferences, such as the International Arts Symposium at New York University, The Contested Terrains of Globalization at the University of California (Irvine), and the South Asian Conference at the University of Wisconsin (Madison). Chowdhry also participates in panels and gives lectures, and talks about her work by invitation.
To learn more about Pritika Chowdhry and her work, please visit her website, www.countermemoryproject.org.
About the Author
Reanne Rodrigues is a writer, editor, arts advocate, and digital media specialist in Manhattan, New York City.
For over ten years, she's helped leading performing arts organizations, nonprofits, dance studios, artists, and performers build their audiences, engage their communities, and market smarter.
Having lived and worked in London, Dubai, Toronto, and New York, Reanne's multicultural experience has shaped her into a skilled storyteller with excellent working knowledge of the international arts and culture landscape.
To learn more about Reanne and her work, visit www.reannewrites.com.
Many people read our art newsletter ; you should too!